Canva is an invaluable design tool used by millions. It's a powerful and easy-to-use graphic design platform that allows users to create beautiful designs without having to be a professional designer.
But what if you don't have access to the internet? Can you still use Canva when you're offline? In this article, we'll explore the possibility of using Canva while offline, discuss its features and benefits, and discuss any potential drawbacks.
Free 30-Day Canva Pro Trial
Canva Pro will help you to create templates that allow you to sell digital products on Etsy. You can try it for free for 30 days.
What Is Canva?
Canva is a web-based graphic design tool that allows users to create designs without the need to be proficient in design software. It's simple, intuitive, and powerful. Canva is free and has a Pro option available on desktops. It's also known as an app for iOS and Android devices.
Canva designs are easy to share and can be downloaded as PDFs, images, or high-resolution files. You can create designs in Canva using "themes" that include backgrounds, fonts, colors, and styles.
You can also upload your photos, images, and graphics to customize a design. Canva boasts more than one million users.
Does Canva Work Offline?
The simple answer is that Canva does not work offline and needs an internet connection, as Canva is an online design platform used to create content for personal and professional use.
While it requires an internet connection, there are pros to being connected to the internet, like being able to save your work automatically and accessing and sharing your design work around the world on multiple devices such as desktops and mobile phones, tablets, and iPad.
Can You Use The Canva App Offline?
Creating offline designs can be tricky, and the Canva app is no exception. Although Canva is one of the most popular design software tools available today, it does not work while working offline. Canva offline has zero functionality; you can not access your work or create new designs without an internet connection.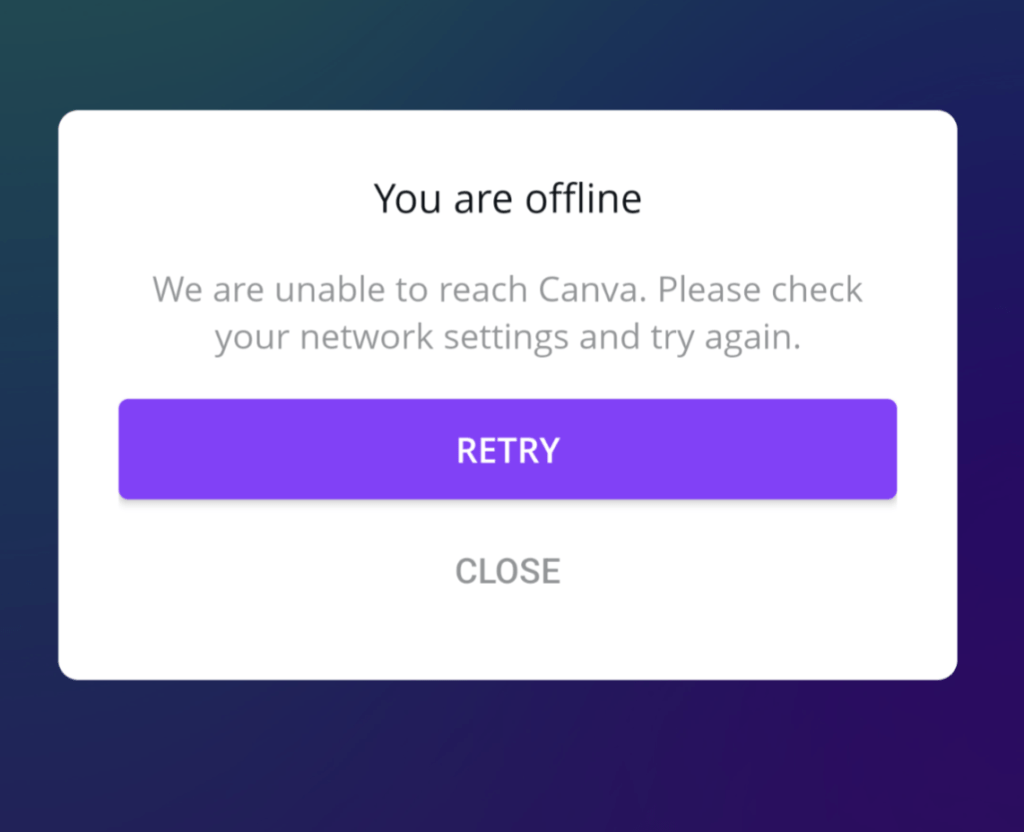 Alternative to Canva that can be used offline?
These are some Canva offline alternatives that work without an internet connection.
Adobe Photoshop
Professionals and creatives around the world use this powerful graphic design software. With so much power at your fingertips, Photoshop allows users to quickly create stunning digital artwork and designs. Its user interface is intuitive, making it easy to learn, even for beginners. At the same time, its vast array of tools and features allows experienced designers to explore complicated techniques and their creative abilities.
Adobe Illustrator
It is a vector-based design and illustration software developed by Adobe Systems, commonly used for creating logos, illustrations, graphics, and artwork. It has become an industry-standard in graphic design for its robust feature set and ease of use. With the help of Illustrator, professionals can quickly create visuals with precision and accuracy that are both aesthetically pleasing and highly functional.
Procreate
It is a powerful digital painting and drawing app for creative professionals. It allows users to create unique artwork on their iPhone, iPad, and Apple Pencil. Its intuitive interface and user-friendly tools make it the premier choice for artists who want to bring their artwork to life on digital devices. Procreate features revolutionary brushes, advanced layering capabilities, dynamic smudge effects, and much more.
Inkscape
A powerful open-source vector graphics program allows users to create and edit vector images. It is one of the most popular programs for creating scalable vector graphics, making it an excellent choice for graphic designers and illustrators. With Inkscape, users can easily create logos, diagrams, illustrations, layouts, and more. Not only does Inkscape provide a wealth of features for professional design work, but it's also free and available on multiple platforms.
The Pros & Cons Of Using Canva
With its intuitive user interface and robust features, Canva has quickly become one of the leading design tools for various purposes.
While Canva can be incredibly helpful for creating graphics, documents, and presentations, it also has some drawbacks that you should consider before using it.
Pros
Free Trial 30-day pro.
Canva's vast library of templates.
Create professional designs for social media posts.
Order to use media such as business cards.
Download your designs and share them with others.
Ability to auto-save your work.
Working on your design with a collaborative team.
Cons
No offline mode needs a constant internet connection.
It's not a complete photo editing software, so it may lack certain advanced features.
It cannot download Raw files.
The free version is limited.
You don't own intellectual property rights but have the license to use them.
The Pro version requires a subscription, so you will have to pay a small fee every month.
These are just a few pros and cons. Why not try a FREE 30-DAY TRIAL?

What is Canva Pro?
Canva Pro account is the premium version of Canva, allowing users to access additional features and tools for their design projects. It is an upgraded version of the popular graphic design software used by millions of people around the world.
With Canva Pro, you can take your design capabilities to the next level with various features, including:
100+ million stock photos, videos, audio, and graphics.
610,000+ free and premium Canva templates.
1TB Cloud Storage.
100 Brand kits, including additional logos, font, and colors.
24/7 Canva team's design advice and support.
Background removal tool.
How to get Pro for free?
Whether working as a professional designer or just starting with graphic design, Canva Pro offers a wide variety of features compared to the free version templates, fonts, and more. With Pro, you can take your plans to the next level with advanced editing capabilities such as background removal, multiple-page support, and custom branding options. Plus, it offers 1TB of storage for all your creations so that you never have to worry about running out of space! You can use the link below to get a Canva Pro 30-day free trial and create beautiful designs from day one.
So, should you upgrade to Pro?
For many businesses, the ability to create stunning visuals for marketing materials can be an essential part of success. Fortunately, Canva is a great tool that makes it possible to use your creativity and design skills to produce beautiful graphics. But should you upgrade? As businesses are always looking for ways to make their processes more efficient, upgrading could give you the edge in making you stand out from the crowd. When deciding to upgrade, consider price, Canva's reliance on the internet, and your graphic design needs.
If you are still unsure about using Canva, why not read: 5 Ways To Make Money With Canva Templates, Fiverr, Affiliates, or Can I Sell Canva Designs on Etsy?